Here's your Friday data center news shakedown about all things Online Tech:
Mobile Health Security Webinar
Next Tuesday, Oct. 2 at 2PM ET, join in on an interactive webinar on BYOD best practices and how to balance HIPAA compliance regulations and minimize security costs. Find out how to move away from device-level security to a master data management plan.
Title: It's About the Data, Stupid! Real World Mobile Security
Speakers:
Marie-Michelle Strah, Ph.D., Founder of Phydian Systems, LLC. Strah specializes in strategy, information architecture, information security and data architecture for federal and commercial clients.
April Sage, CPHIMS, Director Healthcare Vertical, Online Tech. Sage has been involved in the IT industry for over two decades, initially founding a technology vocational program.
Read more about speaker bios and register to attend online.
---
SecureWorld Expo in Detroit + Special Offer from Online Tech
Online Tech's Sr. Systems Engineer, Steve Aiello, CISSP, will be speaking on an industry expert panel, Network Security – Beyond Passwords and Firewalls on Day 2 of the SecureWorld Expo in Detroit next Thursday.
Held at the Ford Motor Company Conference and Event Center in Dearborn, MI, the conference brings together top industry experts to speak on BYOD, data breaches, risk assessments, cloud security threats, social engineering and more.
If you're going, stop by Booth 103!
Don't have a ticket yet? We're offering a discount code that can save you $100 on your SecureWorld Detroit two-day conference ticket. Or, you can save $200 off your SecureWorld Plus Extended Training ticket. Just enter this code while you register: ONTDET12
And register with this link: https://rsvp.thesegurogroup.com/event/2012-detroit-secureworld-expo
---
Crain's Detroit CIO of the Year Award Ceremony
Online Tech's Director of Operations, Jason Yaeger, was awarded Crain's Detroit 2012 CIO of the Year award, and attended the CIO summit event at the Fillmore Theater in Detroit last night. Yaeger listened to a variety of tech executives speak, including Dr. Robert Childs of the National Defense University speaking on cloud security, below.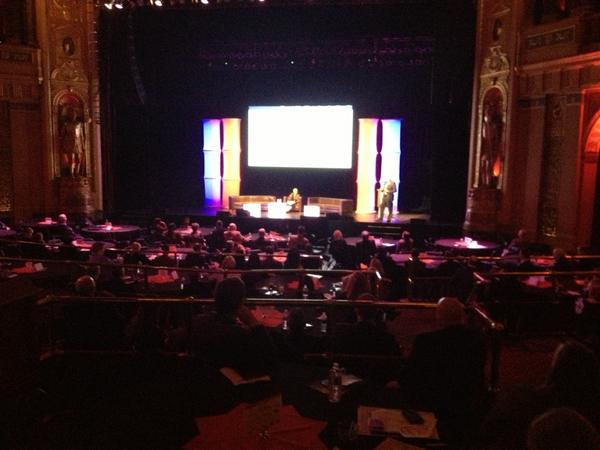 Jason is one of five total winning CIOs that were chosen from categories assigned by either revenue or industry type, including government. Other winners include technology leaders from a financial services company, automotive research, communications and the State of Michigan. Other finalists for the CIO of the Year award include CIOs from General Electric, marketing, Oakland County and more.
Find out more about Jason and his award by reading Online Tech Wins 2012 Crain's Detroit Business CIO of the Year.
---
We're Hiring!
Moving forward after our announcement of our partnership with News-Press & Gazette Company and expansion into new markets across the Midwest, we're hiring up a storm. We're looking for:
Jr. Systems/Network Administrator
Job Overview:
Responsible for assisting in data center operations, including installations, maintenance, monitoring, analyzing, and troubleshooting data center equipment and software. This position is for second shift (Tuesday through Saturday 4:30pm-1:00am).
We are also seeking another individual for third shift (Tuesday-Saturday, 12:00am-8:30am).
Developer/Programmer
Job Overview:
We have a great opportunity for an entry level developer. The individual will work with truly world-class software product developers/designers on top of world-class infrastructure (we're in the business) for their development, testing and production. Our customers and our entire company rely on OTPortal for critical systems management so our developers get to see their code, first hand, providing significant value to us and our customers. Our developers work with some of the latest network, hosting and cloud systems available.
And more in our Careers section.